PUBLIC LIBRARY INFORMATION
The Montauk Library is your local library. The librarians are there to help the entire community, including Montauk Public School students. They are aware of the current school research projects and assignments. They will not do the work for you, but they will most certainly point you in the right direction and help if you are having trouble. Be polite and respectful to them, they are important resources and nice people too! http://www.suffolk.lib.ny.us/libraries/mntk/index.html
Karen Rade, Director
Christine Langerfeld, Children's Librarian
Hours
The Montauk Library is open every Monday, Tuesday and Friday from 11:00 am to 6:00 pm.
Wednesday from 11:00 am to 8:00 pm.
Closed Thursdays
Saturday from 10:00 am to 5:00 pm.
Sunday from 2:00 pm to 5:00 pm.
East Hampton Library is another valuable public resource. http://www.easthamptonlibrary.org/
Suffolk Web is a cooperative project of the public libraries of Suffolk County, New York. This site includes links to Suffolk County's public libraries, reference tools, and other internet resources.
Eastern Suffolk BOCES School Library System CyberLibrary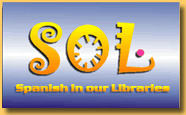 http://sol-plus.net/